A wide umbrella for a digital marketer is "content marketing". Content Marketing incorporates a plethora of several strategies and techniques which are essential to have a thriving web presence. So, the primary goal for any business owner is to create great content with all necessary information related to the user's query made on Google's Search Box.
Content helps to build a great web presence on the Search Engine Result Page (SERP). Hence, at very first place you should have a great content written on your webpage that's solving all queries of your visitor. Getting your website in top 3 results of SERP helps in generating traffic and this is known to be Organic Traffic.
After analyzing, The Bright Edge Study found that "organic search is the primary channel to drive more traffic for your website". The Bright Edge claims that organic search drives 51% of all visitors in comparison to other traffic channels.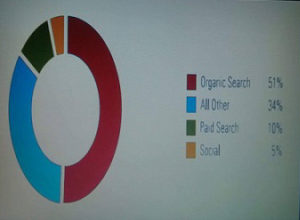 On analyzing the above graph, the primary concern for you is find the relationship between content marketing strategies and Keyword rankings. This would let your content marketing campaigns run successfully and help you to find out the right areas to focus on.
Here are some content marketing strategies that have the biggest impact on Keyword Rankings,
Rich Content – A website must always create quality content providing all the required information. The Rich content, has become the buzzword that must be incorporated in your content marketing strategy. Rich Media Content deviates from normal text and static images that engages with your website visitors. Content rich websites generally generate 97% more links. And that's a lot of links, which means these links are highly important and of course they play the integral role in optimizing your website for search engines. The links have a great influence on Google's ranking algorithm. So, having rich content on your website would give you more links that boosts your SEO and hence improves ranking on Google's SERP. "Rich content proves to be the
Long-form Content – Producing longer articles for engaging visitors by offering them a value for the time spent on the webpage. Articles longer than 700 to 2000 words are long-form content. Creating longer, more in-depth content, which provides value to the audience visiting website. Creating long-form content increases user engagement and average time on site, and hence proves to be the most important part of content strategy. Using long-form content strategy in your website, you also get opportunity to provide more links and get linked to. Therefore, Long-form content gets you more what you want by improving your ranking on Google's Search Result Page. "Long-form Content is a key element in boosting keyword rankings".
Content with Topical Relevance – With Search Engines, topical relevance is used in combination with incoming links thereby impacting your keywords ranking. Google values the content which is comprehensive and that thoroughly explains a topic. The individual web pages or websites that content similar content is known to be Content with Topical Relevance. Incoming links from websites which are topically relevant will have high impact on the webpage positioning in search results than backlinks from irrelevant websites. Thus, Web Search engines assume that the topically relevant links are used to provide additional information to the website visitors. "Always focus on a single topic for every piece of content that you create for your website rather than bouncing around from one subject to another."
Using long-tail Keywords – Long-Tail Keywords are the more specific keywords, which are usually longer than more commonly searched keywords. These long-tail keywords get less search traffic, but they provide you the best conversion value. Hence, by using long-tail keywords for your website it is much easier to rank on search engines SERP as they have less competition. Long-tail keywords also helps you to focus on in your SEO Strategy. Integrating long-tail keywords within the webpage helps to grow your search traffic, and it is used by marketers who are small-scale to large-scale. The pages which are optimized for long-tail keywords can have a greater likelihood of achieving top positions on Googles SERP. So, optimizing your webpages for long-tail keyword can be the vital part of content marketing strategies that have the biggest impact on keywords rankings. There's a plenty of opportunity as you can generate some amount of traffic if you do a perfect keyword research. Based on the keyword research, choose a proper key phrase which receives a reasonable percent of searches.
Image-rich content – People respond positively to images as they visually relate their topic to the images and find it more related. Image-rich pages on the website tend to generate more page views and visitors like them to share thereby increasing social share of your page. Adding Images to the web page can prove to be the biggest content marketing strategies impacting keyword rankings on SERP.
Direct Answers – Direct Answers Box is the most significant development by Google. For most popular search queries that include direct type of searches like "what is", "who is", "how to", etc., Google shows direct answers to what you are want, right at the top of search results pages. Google uses a pattern match strategy to find & provide the exact match answers to the direct questions on the web pages.
Here's an example of Direct Answers Box: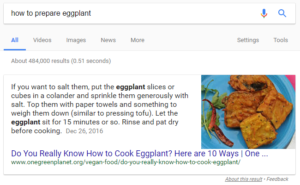 Like a regular search result, when you search for any query with direct search type questions, then Google displays the title tag and URL linking to the main website.
Providing a direct answer for your websites can prove to be a viable content marketing strategies having the biggest impact on keyword rankings.
So, if you provide a quick and direct answer, especially for long-tail keyword phrases, then there's a great possibility that your content get featured at the top position of search results.
While there are countless keyword ranking factors, the ones which are listed in this post appear to have the biggest impact.
By focusing on these key areas, one can assure that your content marketing strategy is heading in the right direction of ranking top in SERP.